Mexican composer Arturo Márquez was born in Álamos, Sonora. His father and his grandfather were musicians and Márquez was exposed to several musical styles in his childhood, particularly Mexican "salon music," which strongly influenced his later compositional style.
He studied music and composition in Los Angeles, Mexico City and Paris and now lives in Mexico City. His Conga del Fuego Nuevo (Conga of the New Fire) was inspired by the conga, a term that can refer to a tall Afro-Cuban drum, a Cuban music style, or the dance that is associated with conga music. Márquez's version captures the excitement and infectious rhythmic drive of this music.
His Danzón No. 2 is one of eight Danzóns that he has written based on music of Cuba and the Veracruz region of Mexico. It creates excitement through percussive, driving and at times complex rhythms, interspersed with a few more languid moments. In 2007, it was played by the Simon Bolívar Youth Orchestra of Venezuela on tour in the USA, conducted by Gustavo Dudamel, which increased the popularity of this piece and other music by Márquez.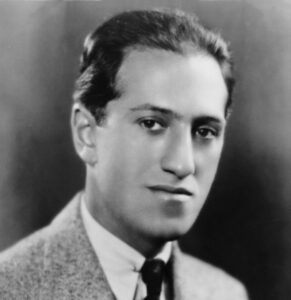 The compositions of American composer and pianist George Gershwin span both popular and classical music. He wrote numerous popular songs that remain as standards of the genre. His classical works, including the Concerto in F, Rhapsody in Blue, An American in Paris and the opera Porgy and Bess, combine classical forms with strong jazz elements, along with influences of the French composers Ravel and Debussy. Gershwin himself wrote the following description of the Concerto in F:
"The first movement employs the Charleston rhythm. It is quick and pulsating, representing the young enthusiastic spirit of American life. It begins with a rhythmic motif given out by the kettle drums…. The principal theme is announced by the bassoon. Later, a second theme is introduced by the piano. The second movement has a poetic, nocturnal atmosphere which has come to be referred to as the American blues, but in a purer form than that in which they are usually treated. The final movement reverts to the style of the first. It is an orgy of rhythms, starting violently and keeping to the same pace throughout."

George Gershwin

A native of Alabama, African-American composer William Levi Dawson studied music in Kansas City, Missouri and in Chicago. He taught in Kansas City public schools, and then as a professor at Tuskegee Institute in Alabama from 1931 to 1956, where he developed the Tuskegee Institute Choir into an internationally renowned ensemble. He wrote or arranged a number of spirituals that have been widely performed in the USA by school, college and community choirs.
His Negro Folk Symphony received its world premiere to great acclaim in 1934 with Leopold Stokowski conducting the Philadelphia Orchestra. Dawson wrote that "This Symphony is based entirely upon Negro folk-music. … In this composition the composer has employed three themes taken from typical melodies over which he has brooded since childhood, having learned them at his mother's knee" and that the symphony's recurrent opening theme was "symbolic of the link uniting Africa and her rich heritage with her descendants in America."
In 1952, the composer visited seven countries in west Africa to study indigenous music. On his return, he revised the symphony, infusing it with rhythmic elements inspired by what he heard in Africa. This revised version is used for today's performance. The resulting work is complex and multilayered, combining the melodic content of spirituals, rhythms derived from Africa and a rich array of tone colors, while using the structure of a large-scale neo-Romantic symphony.